Diese Veranstaltung hat bereits stattgefunden.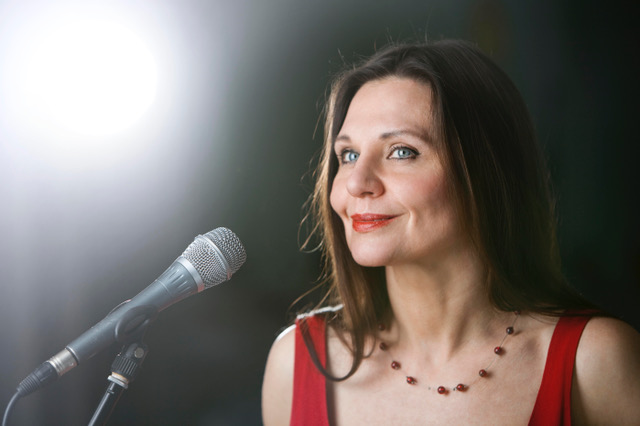 Slava Ukraini / Слава Україні
17. Juli / 15:30

-

20:00

|

Kostenlos
Слава Україні!
Концерт у Югендпарку в Кельні (Cologne Jugendpark), 17.07. з 15:30.
16:30 Родина Шевченків
17:30 ДИВИНА
18:30 Margaux і The BANDites
Вже п'ять місяців поспіль люди з України полишають дім, рятуючись від
війни, яку ми всі не могли собі уявити після понад 75 років миру в Європі.
Тільки в Кельні понад 10 000 людей знайшли притулок у приватних осіб,
організаціях, готелях і муніципальних установах.
Якщо навіть у цій трагедії можна знайти щось хороше, то це, безсумнівно, те,
що протягом місяців люди з різних країн, різного культурних середовища і
часто без володіння спільною мовою, стояли разом у єдності та відчували
взаємозв'язок через довіру, солідарність та дружбу.
З цієї причини ми хотіли б запросити усіх, хто допомагав, різноманітні
ініціативи та, особливо, людей з України, які залишилися в Кельні чи його
околицях, зустрітися (знову) в Кельнському молодіжному парку (Cologne
Jugendpark) та провести день разом з живою музикою. Культурний обмін
об'єднує, створює розуміння та спільну радість.
Вхід, звичайно, вільний.
Тих, хто може, щиро запрошуємо зробити пожертву Artists in Shelter (митці і
притулку) на місці.
Konzert im Kölner Jugendpark, 17.07. ab 16:30 Uhr
Einlass ab 15:30 Uhr
16:30 Uhr Familie Shewchenko
17:30 Uhr DYVYNA
18:30 Uhr Margaux & Die BANDiten
Seit fünf Monaten flüchten Menschen aus der Ukraine vor einem Krieg, den wir uns alle nach über 75 Jahren Frieden in Europa nicht mehr vorstellen konnten. Alleine in Köln kamen weit über 10.000 Menschen bei engagierten Privatpersonen, bei Initiativen, Hotels und in städtischen Einrichtungen unter. Wenn sich selbst an dieser Tragödie etwas Gutes finden lässt, dann sicherlich, dass seit Monaten Menschen aus unterschiedlichen Ländern, Kulturkreisen und oft ohne gemeinsame Sprache solidarisch zusammenstehen und sich vertrauensvoll und freundschaftlich verbunden fühlen. Aus diesem Grund möchten wir Helfer, Initiativen und vor allem die in Köln oder Umgebung gebliebenen Menschen aus der Ukraine einladen, sich im Kölner Jugendpark (wieder) zu treffen und einen gemeinsamen Tag mit Live-Musik zu verbringen. Denn kultureller Austausch verbindet, schafft Verständnis und gemeinsame Freude. Der Eintritt ist natürlich frei. Gefördert wird das Konzert durch die Stadt Köln. Wer kann, ist herzlich eingeladen, vor Ort an Artists in Shelter zu spenden.
Concert at the Jugendpark in Cologne, 17.07. from 4:30 pm
Doors open at 3.30 pm
4:30 pm Shevchenko family
5:30 pm DYVYNA
6:30 pm Margaux & The BANDites
For five months now, people from Ukraine have been fleeing a war that we all
could not have imagined after more than 75 years of peace in Europe. In
Cologne alone, well over 10,000 people have found shelter with committed
private individuals, in initiatives, hotels and in municipal facilities.
If there is anything good to be found even in this tragedy, it is surely that for
months people from different countries, cultural backgrounds and often without a
common language have stood together in unity and felt a bond of trust, solidarity
and friendship.
For this reason, we would like to invite helpers, initiatives and especially people
from Ukraine who have stayed in Cologne or the surrounding area to meet
(again) in the Cologne Jugendpark and spend a day together with live music.
Because cultural exchange connects, creates understanding and shared joy.
Admission is free, of course.
Those who can are cordially invited to donate to Artists in Shelter on site.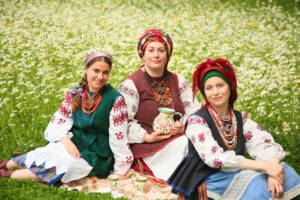 The Shevchenk Family
The Shevchenko family (Maria, Kostiantyn and Rostyslav) have been engaged in traditional music, singing and dancing since a young age, and were pupils of many children's folk groups in Kyiv and the region ( "Day Bozhe", "Budymyr", "Oreli"). They took part in numerous concerts and festivals both in Ukraine and abroad. They lived in Ukraine in the village of Makariv, Buchа district, Kyiv region. Mariia, a student of the Department of Cultural Studies of NAUKMA, in September 2022 organized their own folklore group "Shlyakh-Dorizhenka" at Makariv School No. 1, and involved the children of Makariv Region in studying traditional culture. With the beginning of a fullscale war, being on the front line, they joined the provision of territorial defense of Makariv. As the situation worsened, they were evacuated from the city and left Ukraine in mid-March. They currently live in Germany, take part in charity concerts, carry out extensive cultural and educational and volunteer activities, organize children's camps for refugees from Ukraine, folklore festivals and events (Kupala-fest 2022 in Hechthausen).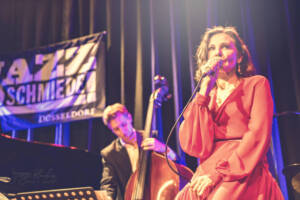 Dyvyna Folk group
"Dyvyna" was founded at Donetsk National University in 1998. The ensemble's repertoire includes Ukrainian folk songs of various genres, most of which were recorded in folklore expeditions in Ukraine (Donetsk, Kharkiv, Poltava regions) or in the Ukrainian diaspora (Black Sea villages of Kuban, Ukrainian villages of Western Siberia, Altai Krai). Due to the Russian aggression in 2014, the group was forced to leave Donetsk and resumed its work in Kyiv, showing mainly the folklore of Donbass. After the full-scale Russian invasion of Ukraine in February 2022, the participants again had to flee the war. Most of them are unsafe in Ukraine, and several participants ended up in Germany and continue to sing Ukrainian folklore and inform about Russia's war with Ukraine. In Germany "Dyvyna" participates in charity concerts in support of Ukraine, holds master classes for children and adults.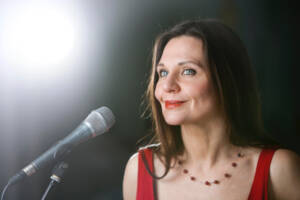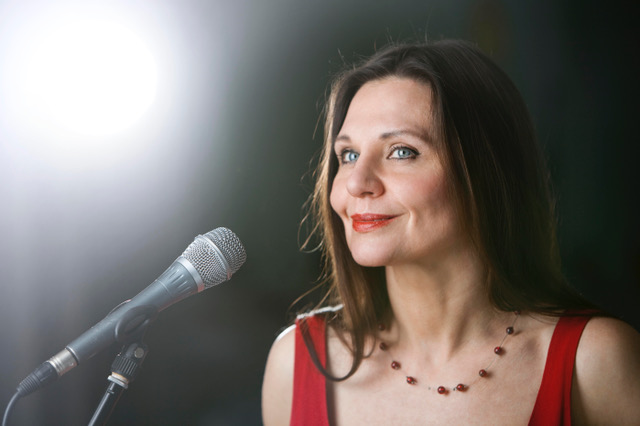 Margaux & the BANDites
are musicians who cross borders between world music, chanson and jazz, theatre and literature. The band has been at home on German and Polish stages for 20 years with an international lineup. Margaux Kier – born in Poland – is the founder of the ensemble, her long-time companions have their roots in the Czech Republic, Germany, the Netherlands, France and also in Poland. The freedom of jazz enables the global translation of the poetic texts – by now into eight languages. For 17.07.22 at the Jugendpark, they will perform in a small line-up and bring a small selection of songs from their repertoire for the festival.
gefördert durch das Kulturamt der Stadt Köln